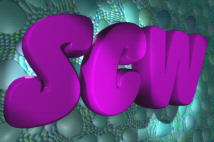 Welcome to SCW's Online Catalogue!
"Your one-stop cybermall for all your aural-accessory needs!"
---
SCW's Cassette and CD Releases
---
If you're not entirely convinced by our well-researched marketing methods, check out what the critics had to say about us. If you're already convinced and are ready to buy, go to our convenient order form. Or, if you'd like to know more about these releases or SCW in general, or you'd like to bestow us with your own praises, send us mail.
---
---
SCW International P.O. Box 242 Station B Toronto, Ontario CANADA M5T 2W1 Email: scw@scw.gts.org WWW: http://www.scw.gts.org/
---
Designed and authored by Hippermedia. Updated and maintained by SCW Webmaster. Last Updated: Nov 26, 1998